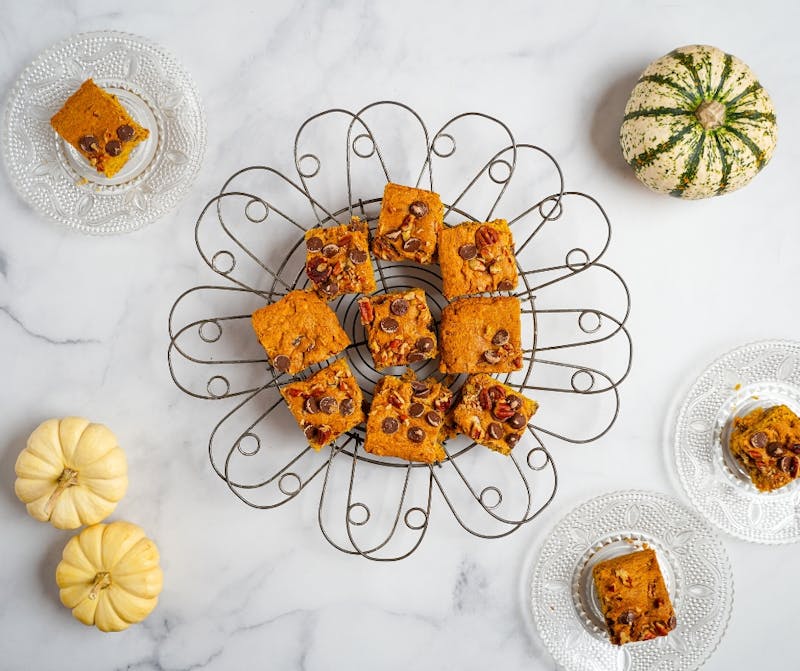 Pumpkin Spice Blondies
Gluten free simple seasonal treat
INGREDIENTS
1/3 cup coconut oil (melted and cooled)
1/2 cup organic 100% pumpkin puree
1/2 cup coconut sugar
1 egg
2 tsp vanilla extract
2 cups almond flour
1 1/4 cup tapioca flour
2 tsp pumpkin pie spice (DIY recipe 1/4 cup cinnamon, 1 T ground ginger, 2 tsp ground nutmeg, 2 tsp cloves)
1 tsp baking powder
1/2 dark chocolate chips
INSTRUCTIONS
Preheat oven to 350°F and prepare 8" baking dish - grease and line with parchment paper sling.
Add coconut oil, pumpkin puree, coconut sugar, egg, and vanilla extract to a bowl - whisk to combine.
Add in the almond flour, tapioca flour, pumpkin pie spice, baking powder, salt and mix together until well combined. Batter will be thick.
Fold in chocolate chips.
Transfer batter into prepared pan. Using a spatula press the batter down evenly into the pan and smooth over the top. Top with more chocolate chips if desired.
Bake for 25 minutes.
Let cool and cut into squares.
View Monique McConnell's profile