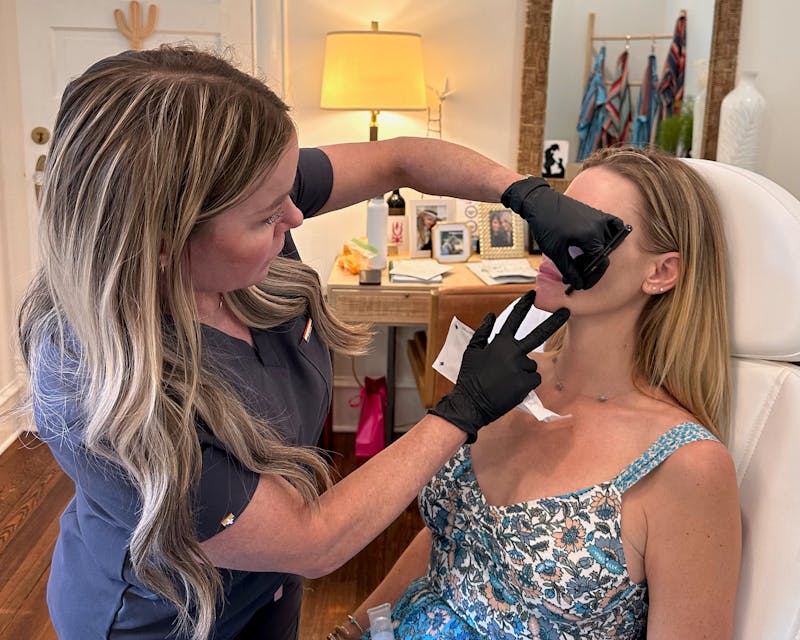 Euro Threads
Let me tell you a little bit about my specialty - Euro Threads. I absolutely love this treatment because you get instant beautiful lifting results with little to no downtime, all without going under the knife. Euro Threads are FDA approved and considered a nonsurgical facelift that uses resorbable surgical sutures that are safely inserted under the skin with a cannula. Alongside the threads are notches that tighten, smooth and contour the face and neck.
This procedure is minimally invasive, offering immediate results that improve over time. Although the results will not replace a facelift, it's such a great alternative for someone who can't physically have a surgical facelift, or simply doesn't want one.
Placing Euro Threads in the tissue provides lift to the cheeks, smile lines, jowls and minimizes submental laxity. In other words, it helps revive sagging skin and contours the jawline. The beauty of these threads is that they eventually are encapsulated by our own collagen which allows for overall skin improvement and longevity, and you don't return back to baseline. Due to the biodegradable sutures, they last about 18 months, but collagenesis continues up to eight months post procedure. To help Incincrase longevity, you can combine this treatment with combination therapy such as Ultherapy or biostimulators like Sculptra or Radiesse Hyper Dilute.
Downtime is very minimal which is what make this such an ideal procedure. One can expect mild swelling, soreness and potential bruising (we have a cream for that!). The only thing we ask you to avoid is exercise for about 7-10 days after your treatment.
Barbed threads are versatile and they don't stop at the jowls, jaw, or temples. Rhinoplasty threads can safely be used to realign and reshape the dorsum of the nose and lift the tip. Smooth threads are also very popular for stimulating collagen production to most areas of the face and neck. You can learn more about Liquid Rhinoplasties here!
View Amber Folis's profile