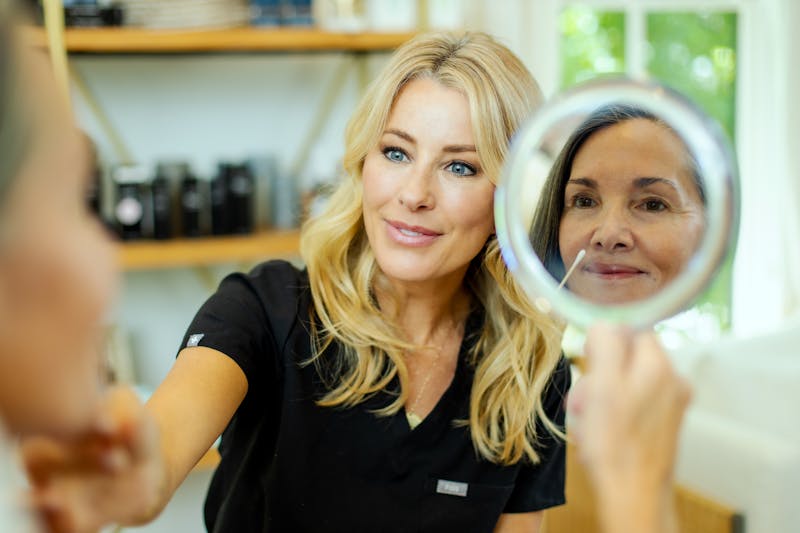 What is Botox exactly?
Botox, Dysport, Xeomin and now Jeuveau are the 4 FDA approved neuromodulators on the US market for aesthetic use. One of our primary tools to rejuvenate the face, these proteins temporarily interrupt the message transmission from the brain to the muscle that instructs the muscle to "move." These proteins have an excellent safety profile with data from over 40 years of medicinal use and for 15 years in aesthetics.
The newly relaxed muscles soften or lift and dynamic wrinkles improve. Improvement can be seen at the 11's (the little vertical lines between the brows), forehead, bunny lines, crows feet, brow lift, lines around the mouth, gummy smile, lip flip, jowls, turkey neck, and masseter muscles for facial slimming. The effect begins to set in 2 days to 2 weeks post injection, and lasts between 8 weeks to 5 or more months depending on dose and area injected. Typically, the higher the dose, the longer the expected duration-- however, only a sprinkle may be necessary in the forehead, for example, while the 11's might benefit from a larger dose. New or surface lines may disappear altogether, while lines that are etched in at rest may not go away completely.
We will customize your treatment and continually reassess over time, as there will likely be continued opportunities for improvement as the face continues to age. Neuromodulators are an integral part of an aesthetic care plan and their conservative use can produce beautiful and natural results. We look forward to seeing you in the office to discuss your neuromodulator options.
View Victoria Hunter's profile