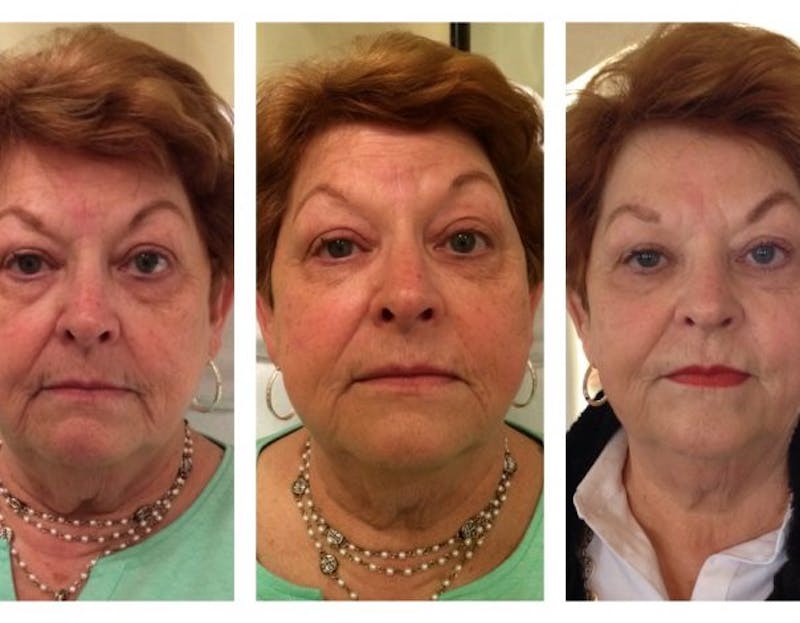 Surgery Vs. Liquid Face Lift
Surgery Vs. Liquid Facelift
The answer is written all over your face.
Many times a week I have clients who come in, sit in my chair, and say to me, "all I see when I look in the mirror is my mother", and when that happens, it might be time for an intervention. You eat right, stay out of the sun, and you're even diligent about your nightly regimen of medical grade skin care and serums and yet you still see the same thing staring back at you in the mirror; your parents. There is only so much that lotions and potions can do before its time for minimally invasive treatments or surgical procedures. Please don't hear me wrong, I am a HUGE advocate of prevention and taking good care of your skin, but I am also a realist. Whether we want to admit it or not, AGING HAPPENS. So what can you do about it?
Below you will see a 68-year young client of mine who has never had ANY injections prior to our visit. What you will notice first is her over arched brows that she subconsciously holds up to maintain her vision, making her a perfect candidate for an upper blepharoplasty (eye-lid surgery). She is also a perfect example of who NOT to treat with neuro-modulators in the frontalis (forehead) because it will drop her lids and impede her sight.
We further discussed her options and I explained to her the amount of volume loss observed and mentioned that at her age a facelift would be a great option. She, however, is not in the market for surgery ($7,000-$50,000) and does not want the down time that comes with the possible recovery time (2 weeks-6 months).
We discussed different filler options and what she can expect. It has been said, for every ONE SYRINGE you erase ONE YEAR. I injected 10 syringes and wouldn't you agree that she looks 10 years younger!!
I always start injecting at the top and work my way down for which, in most cases, allows me to use less filler. In the end I used the following to give her the result of a "liquid facelift."


VOLUMA x (4) syringes in the malar (cheek) region and mid face.
Juvederm Ultra Plus x (4) syringes to treat the vertical lips lines, marionette lines and pre jowl sulcus (indentions to each side of chin). (See previous blog on the importance of foundation).
Juvederm Ultra x (2) syringes in the fine lines that were etched in her skin from either expressions or loss of volume.
There are so many options these days and the list is getting longer with each FDA approval of modern medicines. Along side of every laser, light, peel, potions, and lotion, there are real benefits with dermal fillers, neuro-modulators and plastic surgery. Everyone has his or her own self-critic within that will nudge you consistently when it's your time to take action. You might even get to a point where you cannot stand to look in the mirror and THAT is your sign to act!
When it comes to Surgery Vs. Liquid facelifts, I don't feel it is one or the other. The answer is different for all of us and for most; a combination of both could offer the best results.
View 's profile