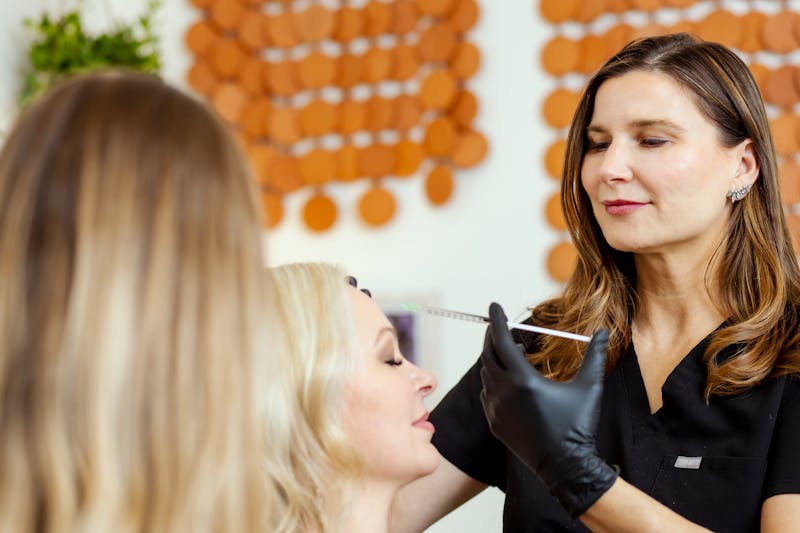 Sculptra Aesthetic
This treatment is truly in a class by itself. As the years I spend injecting grow with my knowledge base, I more and more appreciate the importance and value Sculptra provides. It is, in its essence, microscopic lactic acid balls that stimulate your tissues to regrow and replenish your own youthful collagen over time. I've heard it referred to as "face insurance" or even "face tax" because it can help approximate the youthful contours of your face that change over time as a result of bone and fat pad loss and muscle wasting. It works side by side and supports hyaluronic acid fillers and neurotoxins-- if you're into that sort of thing. J Originally FDA approved for lipo-atrophy (excessively gaunt facial contours because of disease), it is now widely known and accepted as both an adjunctive and primary therapy in aging gracefully.
Sculptra is Poly-L-lactic acid, which is used to create dissolvable sutures for medical uses. It is inert and well accepted by the body. We mix these little lactic acid spheres with sterile water and place them into the framework of the face. It is beautiful in temples, high cheeks and midface, the pre-auricular fat pad in front of the ear (fat pad wasting here is one of the main culprits of nasal labial folds and jowling!), jawline, neck and décolleté wrinkles as well as areas of the body. Sculptra will trigger your immune system to create Type 1 collagen and fibrogen to surround each lactic acid sphere to "protect" you. Like any other dissolvable suture, the lactic acid will dissolve away, and you are left with your own, naturally grown tissues in the areas that are now fuller and more supportive of your youth. This treatment gives a very natural, subtle, evolving result over time that will keep people guessing!
Sculptra is a series. You didn't age overnight, and we will not erase "age" overnight. At 4–8-week intervals, we often inject 1-2 vials per treatment until we reach the desired clinical result. For example, we can estimate 1 vial per decade of life, so if you're in your 40's we may treat with 4 or more vials depending on your baseline contours and goals. Some areas will not take that much, others may need more. Results last 2-5 years and once your series is complete, we do suggest a booster vial 1x/year to maintain the results (hence the "face insurance" investment.) Sculptra has homework too; you must massage for max collagen stimulation: 5x/day for 5 minutes each time for 5 days after a treatment. So, 25 minutes of massage each day for the immediate 5 days post.
It truly is a favorite treatment of the practice and is unique in its capabilities. Some people even experience the "Sculptra Glow." Ask me or any of our providers about it and we can guide you on a Sculptra journey to achieve beautiful, youthful, natural outcomes customized just for you!
All the love and then some more,
Victoria
View Victoria Hunter's profile