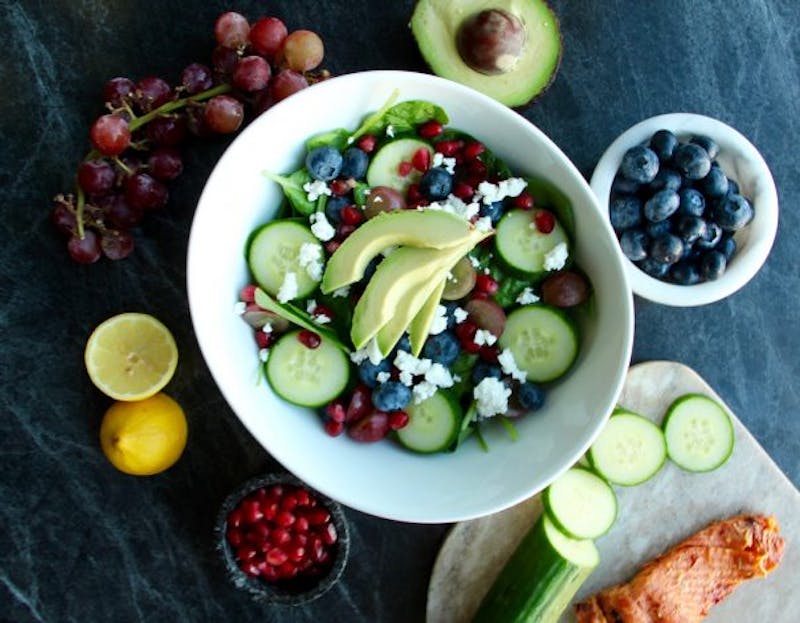 Saving Face's Top Anti-Aging Superfoods For Your Skin
At Saving Face, our motto is, "You have to look good to feel good to do good." We believe true beauty starts within, tracing all the way to your nutrition.
Most people don't think about food and it's effect on the quality of our skin in the short- and long-term, but there is definitely truth to the saying, "You are what you eat." Consuming a whole-food based diet rich in nutrients, phytochemicals, and antioxidants is not only important for your waistline and longevity; it's fundamental for our health and our skin.
Here are a few of our favorite "superfoods" for overall wellness and youthful, glowing skin:
Best for smoothing fine lines: BLUEBERRIES have a high concentration of anthocyanins, an antioxidant containing 150 flavonoids. They help protect collagen by neutralizing enzymes that destroy connective tissue. Blueberries also fight inflammation, giving your skin extra protection from sun exposure, emotional stress, and even over-exercising.
Best for softening skin: POMEGRANATE (seeds) contain ellagic acid, polyphenol compound that fights damage from free radicals, which are caused from exposure to X-rays, environmental toxins and chemicals, cigarette smoke, air pollutants, essentially the world around us. The juice in the seeds also contains punicalagin, a nutrient that may increase your body's capacity to preserve collagen.
Best for counteracting inflammation: GRAPES contain a mix of antioxidants, including flavonoids and resveratrol. Resveratrol has major anti-inflammatory properties and even helps fight effects of UV lights and sun damage.
Best for maintaining moisture: WILD SALMON, or any other Omega-3-rich fish. DHA and EPA, two types of Omega 3 fatty acids, have been shown to strengthen skin-cell membranes, keeping moisture in and also reducing redness. Salmon also has selenium, a mineral that protects the skin from sun exposure.
Best for firming: SPINACH is one of the best dietary sources of lutein, a nutrient that improves the skin's elasticity and firmness. Along with other green leafy foods, spinach provides vitamin A, which prevent cell damage and pre-mature aging.
Best for overall healthy glow: AVOCADOS are composed of healthy monounsaturated fats (MUFAs) and are packed with vitamin E and B vitamins; both nourish the skin. These essential fatty acids help moisturize the skin, keeping it soft and smooth. Extra virgin olive oil also contains MUFAs. We love using it as a dressing because it has a low smoke point of 320 degrees Fahrenheit, making it best suited for a dressing or light heat cooking.
Best for diminishing brown spots: GREEN TEA contains catechins, an effective compound for preventing sun damage, such as hyperpigmentation. Catechins also boost blood flow and oxygen to the skin. Matcha green tea, which you may have seen popping up everywhere lately, is one of our favorite ways to enjoy green tea. Derived from the same plant, matcha is harvested a little different than other green teas. Three weeks before harvest, the tea bushes are covered to prevent direct sunlight. The shade slows down the rate of photosynthesis, stimulates an increase in chlorophyll levels, turns the leaves a darker shade of green, and causes results in the production of theanine, an amino acid linked to improved cognitive function. The stems are also removed before the leaves are ground up into powder. Matcha has at least three times the amount of the phytochemical, epigallocatechin gallate (EGCG), as regular green tea. Studies have shown that EGCG is a powerful antioxidant, promotes the death of cancer cells, and could be effective against age-related degenerative disease.

We've teamed up with Olivia Langdon, Onnit's Nutrition and Food Manager, to come up with two delicious recipes incorporating these beneficial foods for you to enjoy!
MATCHA CHAI VANILLA COLLAGEN LATTE
Serves: 1
Prep Time: <5 minutes
Difficulty: easy
INGREDIENTS

1 scoop Onnit's Matcha Chai Latte*
10 oz. unsweetened coconut milk
1 scoop Primal Kitchen's Vanilla Coconut Collagen Powder
1 tbsp. maca powder**
1 dash of cayenne pepper, optional
*If you don't have access to this matcha latte powder, mix chai spices (cinnamon, cloves, ginger, cardamom, nutmeg & black pepper) with your favorite matcha green tea powder. Then add in turmeric and sweetener of choice. It may not produce the exact same flavor profile, but it can be close.
**Maca powder is derived from the maca root and is part of the cruciferous family (like cauliflower and cabbage). It's an adaptogen and balances our sex hormones.

DIRECTIONS
Heat the unsweetened coconut milk, or your favorite non-dairy milk of choice, in the microwave or in a saucepan on a stovetop.
Add the hot milk with the remaining ingredients to a blender. A small dash of cayenne adds a little kick, not much, that is a nice balance with the creamy sweetness, but it's not necessary. Just an idea!
Blend until smooth and combined. Sip and enjoy! You can also make this same recipe cold. Simply skip step one and pour over a large glass of ice. Yum.
BERRY ANTIOXIDANT SPINACH SALAD
Serves: 1
Prep Time: 10 minutes
Difficulty: easy
INGREDIENTS

2 packed cups baby spinach
¼ cup fresh, organic blueberries
2 tbsp. pomegranate seeds
¼ avocado, sliced
1 tbsp. crumbled feta cheese, from sheep's milk
¼ cup grapes, halved
6 slices cucumbers

For the dressing:

Juice from one whole lemon
1 tbsp. extra virgin olive oil

Optional protein:
DIRECTIONS
In a large bowl, add the spinach leaves. Dress with the beautifying toppings. Drizzle EVOO and squeeze lemon juice when ready to eat. Serve with a filet of grilled or baked wild salmon for additional protein and skin- and heart-healthy Omega-3 fatty acids.
View 's profile