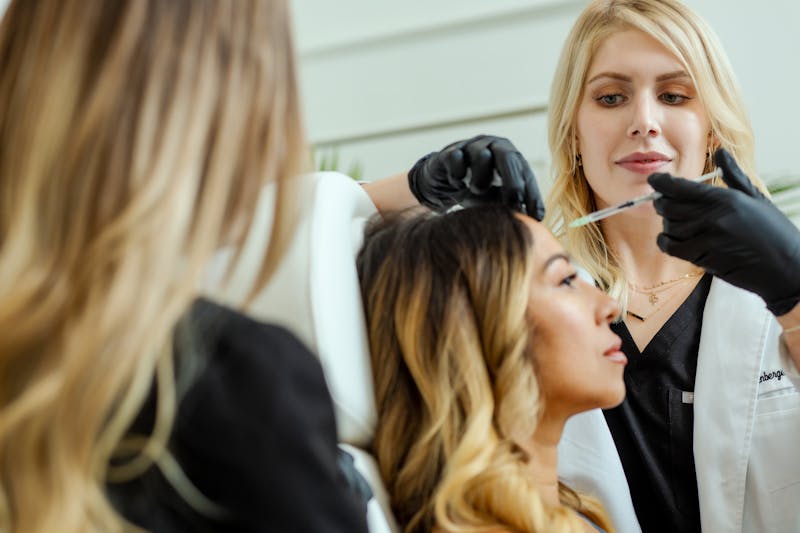 Full Face Treatments: Zoom Out To Get In On The Results
What is a full face treatment?
A portrait artist looks at a subject's whole face—its balance of features, the interplay of shadow and light, the complementary nature of curves and straight lines. We at Saving Face approach the face the same way. We look at the whole—not just a brow or a chin—to achieve the most natural, youthful results.
Our full face treatments are a great way to fully experience this holistic approach. Simply put, a full face treatment is an injectable technique in which different types of dermal filler are used to balance and complement each unique face. Rather than using spot treatments where we zoom in on specific features, we approach your face as a WHOLE. The goal is to refresh and enhance your natural features and avoid the dreaded "overdone" look.
Treatment example:
Each full face treatment is different and tailored to the unique aspects of your face. For example, rather than simply increasing the volume in your lips and attempting to "fill" the smile lines, a full face treatment may include strategically placed filler in the cheeks, temples, jawline, lips, and chin. This global approach would improve the overall shape of the face and minimize any folds or shadows that have formed secondary to volume loss and age-related changes. No single feature would appear to be in competition with the rest of the face or "out of place." The results would include:
a balancing of facial features

natural looking highlights and contours

soft transition zones and folds

better symmetry and youth-giving shapes
Analogy please:
Picture an hourglass. Our youth is represented when there is more sand resting in the upper portion of the hourglass, meaning that we typically see more volume in the midface with a tapering in the lower face like an inverted triangle. As the sand passes to the lower portion of the hourglass this represents the aging process with the volume in our faces migrating south. We notice a lack of volume in the cheeks and heaviness in the lower face. The aging process, like the shifting of sand in an hourglass, shifts the face into more of a triangular shape. This creates a wider and heavier lower face than what may have been just a decade or two ago. To stick with the analogy, our full face approach allows us to shift sand back to the upper portion of the hourglass.
How much product does a full face treatment entail?
If you are intimidated by the amount of product that may be required to perform a full face treatment, then let's discuss just how much "gel" is in a syringe of filler.
1 syringe = 1mL of a gelatinous hyaluronic acid filler. This equals 1⁄5 of a teaspoon, basically a cute little blueberry-sized amount of product.
On average, most Saving Face patients require 4 to 6 syringes of filler to achieve a full face refresh, which is approximately 1 teaspoon total of added volume to the entire surface area of the face. A general guideline we use for restoring volume that has been lost with time is 1 syringe per each decade of the client's life.
Why is this approach preferred?
Many Saving Face patients prefer to complete a full treatment in as few sessions as possible and enjoy the results sooner. Furthermore, although it may seem counterintuitive, MORE areas addressed in a single treatment leads to a MORE natural result because the face looks balanced overall. So in this case, more is actually more. The results typically last 1-2 years and downtime is minimal.
What packages are available at Saving Face?
Depending on a patient's anatomy and expected outcome we offer multiple options to achieve a non-surgical full face rejuvenation. After all, this approach is completely customizable and tailored to you. We have two primary packages:
SAVING FACE FILTER. For those looking to camouflage the appearance of lines and hollows on the face and provide a more contoured overall appearance, we offer our "filter' treatment. Think of this as an airbrushed effect with a focus on minimizing shadows around the mouth and under the eyes while defining the cheekbones and jawline.
SAVING FACELIFT. For those interested in volume restoration and camouflaging the appearance of heaviness in the lower face such as "jowls," we recommend the SAVING FACELIFT. This full face treatment will balance out the "hourglass," redirecting volume to the upper half of the face.
Interested? What are the next steps?
Come talk to us! We would love to see you for a consultation at Saving Face!
Maci Barron PA-C Saving Face Injector
View maci barron's profile