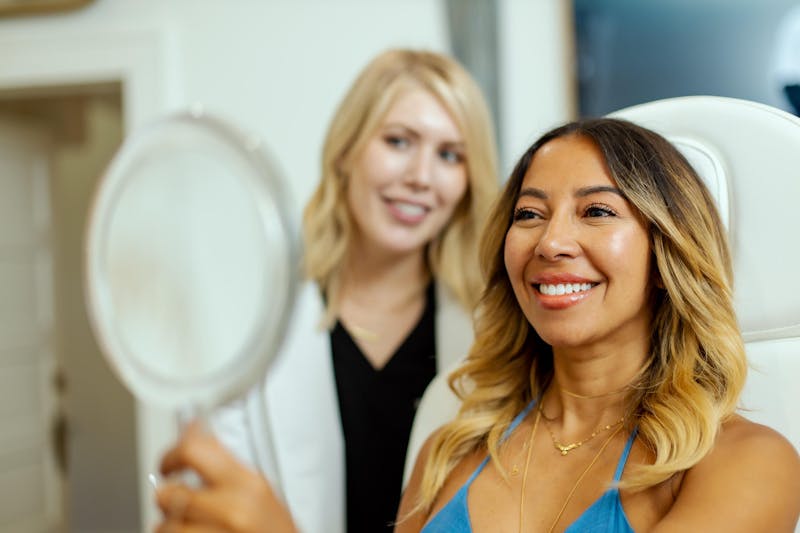 Botox For The Blues
Soon after I started Saving Face I had a t-shirt made with our original logo, and above it said "Follow me to" Saving Face, and under the logo it said, "Botox makes me happy." Looks like I am not alone!
Several studies all show that Botox can actually change your brain. More than 50% of patients improved their mood by 50% with Botox. What? How? There is no doubt that LOOKING GOOD will make you FEEL GOOD, but there is more to this medicine.
Botox is anti-inflammatory and we all respond well to less inflammation. fMRI (an MRI that shows how various parts of the brain work) has shown that patients treated with Botox in the frown muscles have decreased activity in their left amygdala when mimicking angry expressions. Hyperactivity of the amygdala is associated with depression, anxiety, PTSD, and a heightened fear response.
There is also the hypothesis that if you're limited to the amount of facial feedback you can give, like making an angry face, your brain may perceive you as being happier. Other studies show that if you look friendlier, other people mirror a more friendlier world, and that Botox injected ANYWHERE creates positive mood effects. In other words, Botox spreads goodness, and that's what we're here to do.
We're so excited to launch our new service, "Mood Modulators" at the Body and Mind location. After booking your appointment you will fill out a brief questionnaire followed by some quick, painless, injections between your brows. After a few weeks, you will return to retake the questionnaire and see if you're a positive responder. If so, we will be excited to see you back for quarterly treatments! If not, nothing lost, you will enjoy the benefits of a smooth, less wrinkled forehead for up to four months. We are not recommending you rely on Botox to treat severe depression, and please always consult with your primary care physician before weaning off any prescribed prescriptions. Depression is a serious condition and if you're feeling hopeless, separate from yourself and the rest of this world, you're not alone. Please ask for help. We love being of service.
Cheers to life with a little more JOY and HAPPINESS,
Brooke
View Brooke Nichol's profile